The Orange County Women's Chorus
---
The Orange County Women's Chorus is an ensemble of more than 50 singing women representing more than 23 communities in Orange County, plus Los Angeles, San Diego, and Riverside counties. Our repertoire spans many eras and cultures, and ranges from the serious to the silly, but our commitment to performing quality music at the highest level never changes. We've been "causing treble" in Orange County since 1997, and as we celebrate our 26th season in 2023 – 2024, we are more excited than ever to bring our music to the community. The Orange County Women's Chorus made our Carnegie Hall debut on June 27, 2022 with a spotlight performance followed by Franz Joseph Haydn's Lord Nelson Mass under the baton of Artistic Director, Eliza Rubenstein. We were named an "Outstanding Arts Organization" by Arts Orange County in 2014, and were a prizewinner at the International Musical Eisteddfod in Llangollen, Wales in 2015.
Upcoming Performances
Dancing Day
John Rutter's beloved Dancing Day, performed with piano, anchors our holiday concert of carols and songs for the season!
Saturday, December 16, 2023 at 7:00 p.m.
Sunday, December 17, 2023 at 3:00 p.m.
St. Wilfrid of York Episcopal Church
18631 Chapel Lane, Huntington Beach
Upcoming Events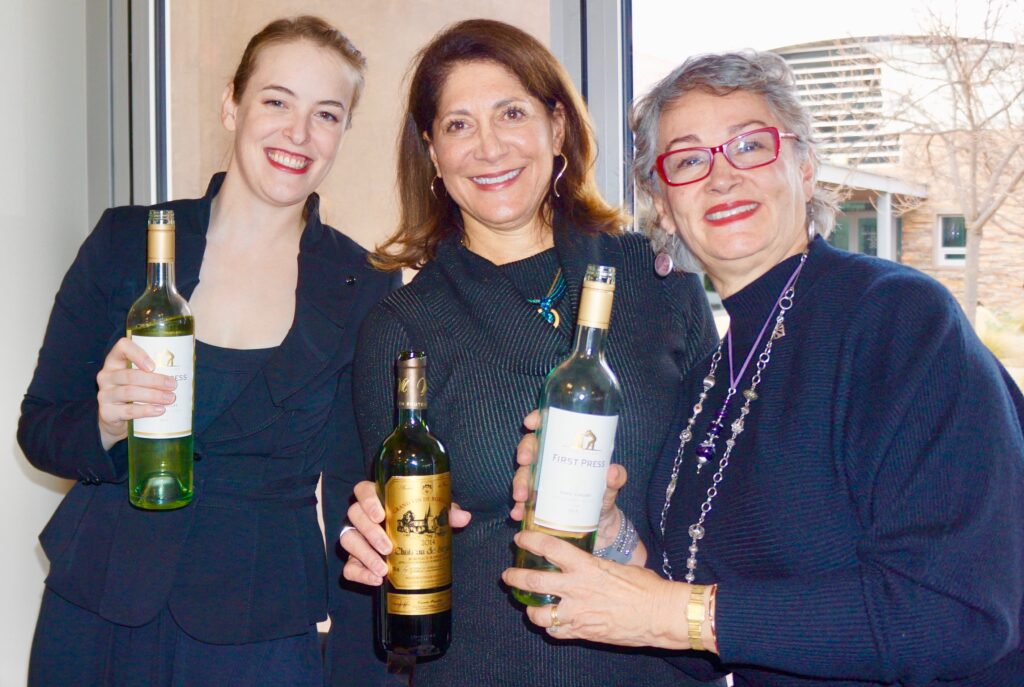 Save the Date for "A Glass of Cabaret"
A Glass of Cabaret returns in 2024! Spring will be right around the corner, and with it we look forward to fresh air, warm sun, and a bright celebration of music with the OCWC! Come raise a glass to the first day of spring with an afternoon performance from some of our fabulous soloists and small groups. We'll welcome the season with a bouquet of jazz tunes, folk songs, Broadway favorites, opera show-stoppers, and more! Join us after the show to enjoy wine and our specially crafted sweet and savory picnic boxes. While you sip and graze, stop by the bidding tables for a chance to take home some exceptional auction items. Seating is limited for this exclusive event.
Sunday, March 3, 2024 at 3:00 p.m.
Neighborhood Congregational Church
340 St. Ann's Drive, Laguna Beach, CA
Tickets are $60 and go on sale February 1, 2024. Subscribers enjoy an exclusive discount–subscribe to the full season of concerts today to receive your discount code for this event!
Latest News
We're going to Croatia!
The Orange County Women's Chorus will take flight in June 2024 to visit Croatia, with performances and collaborations planned in Zagreb and Opatija. We're excited to visit this beautiful country and experience its culture.
We are committed to making it possible for every singer to participate. Won't you join us by making a donation to the tour scholarship fund?
June 26, 2024 at 10:00 pm
Contact Us
If you are contacting us about auditioning for the OCWC, please tell us what voice part you sing and include a brief description of your prior vocal/choral experience.
Did you attend a recent performance? If so, we'd love to hear what you thought! How did you hear about us? Do you have other feedback to share? Please send us an email by filling out the form below!